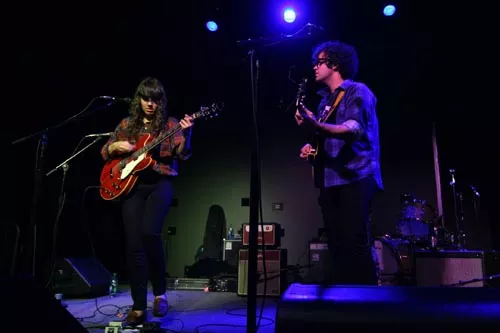 Toss this one into the "Good Shows at Completely Inappropriate Venues" files.
Last night I hit up the show headlined by Ezra Furman & the Harpoons, with support from Tristen and The Apache Relay. The acts were all great -- surprisingly so, even, especially in the case of Apache Relay, which I knew nothing of going into the night. Some Americana-rock sounds from a six-piece with some fiddle and mandolin and a few extra floor toms for percussive power. Comparisons to Mumford & Sons and the Avett Brothers would be completely appropriate. The band's singer was enthusiastic and got a warm response -- from the 25 people who showed.
Which brings us to our problem. Stage AE is a good venue -- for big shows. And I understand that the "Club" configuration is tailored to smaller, more intimate affairs. But not this intimate. I went into the night wondering if it wasn't the wrong venue for the show -- I was only vaguely familiar with Ezra Furman, though I wasn't sure if maybe there was a mass appeal for the band that I was just missing, because that's been known to happen. I knew and liked Tristen, but only really discovered her recently, and I knew my efforts to get the word out about her fantastic first album via our Critics' Picks section and my 9:13 Buzz on WYEP weren't likely to turn that many people out to a Tuesday.
The thing about this venue is that it's ideal for destination shows -- there's parking, people know how to get there, it's probably going to be great for outdoor shows. But as a stop for up-and-comers, it's not so great. It's difficult to get to without a car. There's no walk-in traffic like there would be at a neighborhood bar venue. And even in this, its smallest configuration, it's got a capacity of a few hundred; that's bound to make any show with a smaller turnout feel like a completely empty room.
The sound was good, and I can imagine a bigger show there being fun. But the lesson to be learned here is: Know your scene. None of these acts had a "big" show in Pittsburgh prior to last night, so how could they be expected to draw a couple hundred, especially without a local support act to bring in some friends and fans? The show was up against The Mountain Goats at Mr. Small's and O'Death and Thunderbird, sure, but regardless, I suspect it would've been difficult to turn a lot of heads out to this venue for this show.
Tristen's set was a stripped-down one, with just her and a guitarist. I'm excited to see her with a full band next time she comes through; many of the arrangements of her songs feature pretty great rhythm section playing and I think her live show would profit from a full-band configureation. But at its essence, her show was great: energetic, intimate, with just enough tour-weary vocal scratches to render the performance authentic. The set closed with "Heart and Hope to Die," one of my favorite tracks from her album, and the song that I think was best suited to the stripped-down instrumentation. I'm willing to put my money on Tristen taking off -- anyone willing to make a friendly wager?
Ezra Furman, sporting a brand-new, Ted Leo-style mohawk, was charming and fun, playing to the small but devoted crowd that came out on a rainy Tuesday night to see him. It was an energetic set from a talented artist who's admirably self-aware (he introduced a mid-show mini-set of emo-type tunes by noting their self-loathing nature, and owned what may have been the line of the night: "I have no life. I just sit around writing and playing songs. [pause] I have a great life.")