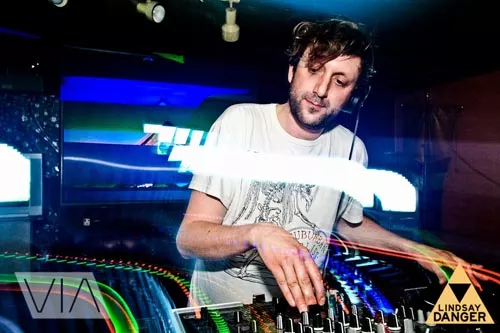 VIA Presents shows have garnered a reputation for being particularly genre-blind. Their strategically curated lineups never fail to bring some all-out boundary-pushing audio/visuals to the East End, and Saturday's show at the Lawrenceville Moose, with its lineup of bass masters, did not disappoint.
Headlined by Bristol-based Appleblim (Laurie Osborne, Apple Pips), the sounds emanating from the Moose until sometime past 3 a.m. were dubstep-tinged but so far from the stigmatized popular culture workings of dubstep sounds. It was none of that stuff one hears on a Britney Spears track or at an all-ages rave, no ear shattering chainsaw basslines and thumping robot voices. Saturday night's version of dubstep brought everything from its London/Bristol roots all the way to a futuristic otherworldly funk, a journey of tantalizing two-step bass.
The evening began with local DJ Cutups (Geoffrey Maddock) who took the show as an opportunity to push his own drum-and-bass set into adventurous territory. Contrary to his monthly don't-take-ourselves-too-seriously sets that stack popular rap tracks with breakcore, jungle and electro party jams, the mixing he rocked out Saturday was risk taking that paid off. It was a daredevil set with warping sonic bass exploration that set the tone perfectly for the rest of the party. The visuals that accompanied his set were creations of M. Callen, a senior Fine Arts and Humanities student at CMU. Emanating from screens behind the DJ booth were long video loops of Pittsburgh sunsets that provided a glow of purples, pinks and oranges that calmed down the sometimes-hyperactive beats pumping through the speakers.
More local D&B was provided by Sight Unseen (Adam Ratana and Preslav Lefterov). For everyone who's been following this duo, mostly limited to Soundcloud listening, the show was an exciting opportunity to hear their beat mixing on a massive sound system. They laid funky languid tracks, sometimes with a little R&B flavor, over high-octane punchy beats. The set started out chill and delicate and bulldozed up to pounding dark power bass accompanied by M. Callen's video images of dusky Pittsburgh skies.
Appleblim took the decks, transitioning from Sight Unseen's string drenched overlay into his signature hollowed-out bass bumps. He worked from smooth, lazy, delay-enhanced vocals with a mid-range tempo, all very house-like, up to techno-fueled full-on future funk, dropping tracks from fellow post-dubstep artists Ramadanman and Scuba. Appleblim has developed a reputation for playing all kinds of weirdness that vacillates between house, techno and dubstep, his sounds grazing the outskirts of each genre and arguably creating an entirely new one in the process. The crowd's general consensus on his set was that it dipped to moments of sound filler at times but countered the instances of bored head-bopping with ones of mind-blowing fearlessness. He took the dance floor inhabitants to new places and those moments of melody-less mush were just rest stops along the way.
D. Luchman, a Master of Fine Arts student at CMU, provided the visuals to Appleblim's sonic journey. The mountain of television screens behind the DJ booth flashed colorful spasmodic pyramids, a wall of brightly colored shapes and images. It was difficult to discern what exactly the elements were as they were moving faster than Appleblim's mid-tempo beats, but they created a visual synthesis with the sounds that were already very difficult to define; a fitting marriage of sight and sound.
The evening-into-morning party of funk filled booms and brightly colored screen flashes was some epicness the Moose probably hasn't seen in a hot minute. From dollar PBR's to the grungy lounge atmosphere of the lodge, the sounds of grimy South London dubstep pushed to new realms by a tall gangly Bristolian complete with a cigarette dangling from his mouth as he mixed – the entire milieu just fit together like a puzzle.