Brighton Heights resident Vince Pallus has made official a development we first reported nearly three weeks ago: A short time ago, he released a statement announcing his campaign against City Council President Darlene Harris in this year's Democratic primary.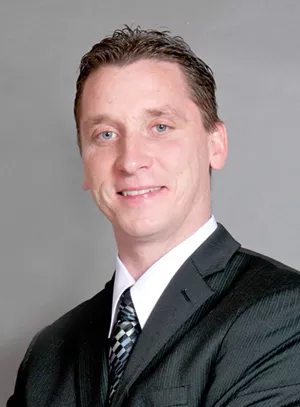 Pallus joins another contender in the race, Bobby Wilson, and has ties to Mayor Luke Ravenstahl. Pallus' campaign outreach is being handled by Zachary Mazefsky, who's the (fraternal) twin brother of mayoral policy director Gabe Mazefsky. Pallus also graduated from North Catholic High School, just a couple years ahead of Ravenstahl himself.
Ravenstahl would score a major coup if Harris was ousted; she won the council presidency last year by joining with an anti-mayor bloc, which has subsequently thwarted Ravenstahl's will on some key initiatives.
It's hard to avoid that subtext when you browse Pallus' nice-looking website, where you'll find assertions like this one:
Over the last four years, we've seen personal interests and power politics put above the well-being of everyone in our community. Together, we've watched what seems like an endless soap-opera of fighting within the administration , while dangerous, vacant homes continue to cripple our North Side neighborhoods, crime rates continue to soar, and roads go unpaved.
As we've been seeing in district 3, this is becoming a meme in council races this year -- members of the Harris majority being attacked for uncivil debate, etc.
We hope to speak with Pallus in the days ahead. For now, though, the full text of his campaign announcement follows:
Vince Pallus, 33, of Brighton Heights, announced today that he will be seeking the Democratic Endorsement for Pittsburgh City Council District 1, challenging incumbent Darlene Harris.
Vince was born and raised in Pittsburgh's North Side, purchasing the Brighton Heights home in which his parents raised him and his three siblings.
"The reason I'm running to represent the people of the North Side is simple," said Vince. "The incumbent has made poor decisions that will negatively impact the taxpayers of the North Side and the City of Pittsburgh. I care deeply about the North Side neighborhoods, it's where I went to school, played ball, coached sports and where I call home. It's time that we elect a representative that will usher in change by putting the community's concerns first, not personal interests."
After 14 years in the private sector working his way up the ladder with a small, local business, Vince seeks to bring common-sense leadership to Pittsburgh City Council.
Vince graduated from North Catholic High School, where he later coached basketball. He is a member of the Risen Lord Parish located in the Brighton Heights neighborhood of the North Side. Vince volunteers with sports programs at North Catholic High School and for Kids' Chance of Pennsylvania.
"Over the course of my campaign, I look forward to speaking with constituents about their concerns for our community, and the changes they expect to see," Pallus said.