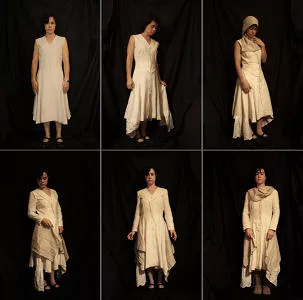 It's about 20 visits, 80 more to go for Becky Slemmons.
The local artist has set herself a challenge: to visit 100 places of worship in Pittsburgh, at least one each week. She started Sept. 5.
Her goals include exploring the role belief plays in society; "the similarities in differently labeled spiritual mythologies"; and "the conflict unfortunately perpetuated." She is also, she adds in a press release, "intrigued by people who don't need proof."
Moreover, "Gatherings" has taken Slemmons, who is unaffiliated with any particular faith, on a journey of artistic discovery.
She documents her visits through video, blogs (www.gatheringspittsburgh.blogspot.com) and works in the more tangible medium of a sleeveless, gothic-style white dress. She wears the dress on each visit and alters it in response.
"From the beginning there was something about clothing that needed to happen and I felt like there needed to be one item that went to each service," she says in a phone interview. "Clothing becomes a relic when worn by people. I wanted people to have that as a reason to talk to me."
Every week, Slemmons contacts representatives of faith communities, explaining her project and requesting the opportunity to visit. She describes herself as shy and remembers being scared to make the first call. Still, she says, "I love doing things I'm afraid to do."
She's attended a variety of Christian and Judaic services (denominational and non-denominational), as well as Hindu, Islamic and Unitarian Universalist. These visits have included religious celebrations such as Diwali (Hindu), Taizé (Presbyterian), Sukkot, Yom Kippur and Rosh Hashanah.
This Sun., Nov. 28, she'll attend both the 8 a.m. Good Samaritan Service involving East End Cooperative Ministry Men's Shelter, at East Liberty Presbyterian Church, and the 10:30 a.m. service at The Religious Society of Friends of Pittsburgh, in Shadyside.
Slemmons is intrigued by the way people use their body to worship. She saw a woman at a Hindu ceremony praying in "child's pose," the same way a Muslim does. "That was wonderful," she says.
So far, faith communities have responded positively to her, as well.
"It's been so supportive. I've met some really incredible people. I've had reverends call me after the visit and ask me how I felt about the visit," she says.
The entire process is reflected in Slemmons' dress. A patch from the Hot Metal Bridge Faith Community in South Side peeks out of a front pocket. Five tiny lines, barely visible beside a button, remind her that Muslims pray five times a day.
Still, religious dress codes apply. She added a head scarf for a visit to an Orthodox Judaic service, and sleeves for an Islamic service. At Hindu religious worship, women wear a "dupatta," a long scarf, so Slemmons added that, too.
She worries that someday, the dress will attract too much attention.
"Things will become more complicated when the dress becomes huge, and I don't want to distract people as they're worshipping," she said.
Indeed, Slemmons worries, "No matter how much I try to research [beforehand], it's hard for me to know if I'm surely not going to do something considered sacrilegious."
For much of her career as an artist, Slemmons says, she only painted and drew. Her work began to change during a two-year graduate program at The Maryland Institute College of Art. "I could see the idea of performance even in my still-lifes because my little objects seemed to be performing on a stage," she says.
But "Gatherings" is a leap for the internationally exhibited artist, who currently teaches at Pitt.
"This is the first project where I'm a visible performer," she says.
She hopes, ultimately, to expose the people she meets to "the possibility that making art may not always be that different from the act of attending service: both involving meditation, consideration and then response through life's actions."