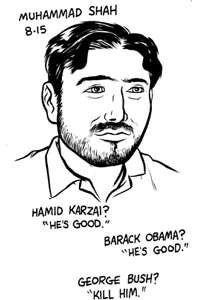 Bors, whose smart and feisty strip "Idiot Box" is syndicated in 10 publications nationally including City Paper, hits town Wed., Oct. 27, with the new graphic novel he illustrated.
But the critically acclaimed War Is Boring (New American Library), written by conflict journalist David Axe, doesn't reflect any war experiences Bors himself had.
In fact, at the time War is Boring came out, the Canton, Ohio, native and Art Institute of Pittsburgh grad had never even left the States.
His first overseas trip, however, was a doozy. In August, Bors, 27, joined fellow cartoonists Ted Rall and Steve Cloud for a month-long trek across Afghanistan.
The trio were unembedded -- on their own except for whatever English-speaking driver they could hire in a given town, Bors said in a recent phone interview. The three Americans dressed in Afghan garb and hired drivers who spoke English.
Avoiding the country's south, where fighting is heavy, they traveled mostly in the north, to small towns and to big cities like Herat, and later spent some time in Kabul.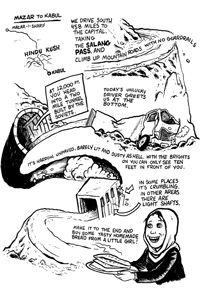 One goal was to meet regular Afghans, and they did. Often, Bors says, the three cartoonists were the only Americans the locals had ever met who weren't military or with nongovernmental organizations.
"The objective was to avoid the military, really," says Bors. He means the American military, which tends to attract gunfire and explosions.
Afghans, meanwhile, whatever misgivings they might have about the American occupation, cottoned to the three Yankees. "Afghans were just really friendly and welcoming," Bors says. "They can separate us from our government easier than we can with Iranians, say."
Another objective was to draw. A couple of Bors' sketches accompany this post. (See more at mattbors.com.)
No surprise to Idiot Box fans, Bors opposed the 2003 invasion of Afghanistan and the occupation, and still does. But he acknowledges that while some Afghans want the U.S. out, others are afraid what will happen when the U.S. leaves.
As to personal risk for the travelers, Bors describes the trip as no more dangerous than necessary. The travelers stayed in hotels with bullet holes in the windows, and a couple times had to alter travel plans because of reports of Taliban in the area.
The risks, however, were constant. "You can be stopped or robbed or killed at any moment, but you get used to that," Bors says.
Bors now lives in Portland. His time in Pittsburgh included some illustration jobs for CP, including a couple covers.
He hasn't visited Pittsburgh in years, but he returns with a resume burnished by War Is Boring, which among other plaudits was named a "hot graphic novel" by Rolling Stone. (Here's my post: www.pittsburghcitypaper.ws/gyrobase/Content?oid=oid%3A83390).
From 5-8 p.m. on Wed., Oct. 27, Bors will visit Oakland's Phantom of the Attic, 411 S. Craig St. (412-621-1210) to sign copies of War is Boring. The place is an old hangout from his AIP days.