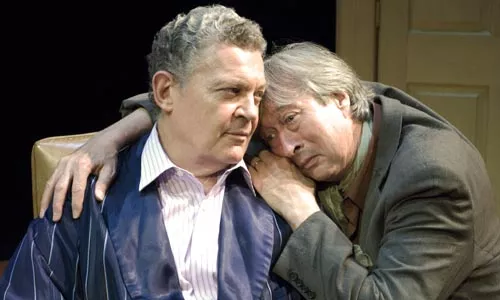 It's hardly an insult to say that Harold Pinter can strike you as less a playwright than a poet. PICT's production of the 1975 play widely regarded as the late master's masterpiece is as good evidence as any.
The play suggests a spin on Waiting for Godot. Instead of two compatriot tramps on a desolate roadside, it's a rich man and a poor one, in the rich one's house.
There's progression, if little traditional story. The penniless Spooner soon meets wealthy Hirst's two manservants, amiable Foster and glowering Briggs. The protagonists, strangers who've just met in a pub, are both poets, though we don't definitively learn that until Act 2.
This monumental play is somehow all built of atmosphere and suggestion, the two men's jaded, rueful, meandering talk seemingly leading nowhere, even as you sense it's actually going somewhere that will leave you comfortless.
I started thinking of Pinter's amazing wordplay more as poetry after Spooner, typically despairing, laments to Hirst, "All we have left is the English language."
The suggestion that we're traveling, as in poetry, through the characters' subconsciousnesses (rather than some "reality") is supported by the stunning Act 1 moment that occurs after Hirst relays a nightmare in which he saw a drowning person he can't identify. "I was the one drowning in your dream!" blurts out Spooner.
Act 2 begins with content more prosaic, scenes superficially more "normal." There is less overt dread and menace. Briggs give comical driving directions; Hirst's monologue consists of nostalgic (if probably invented) recollections about the past he and Spooner probably never shared. But then the play tumbles toward its shadowy end.
Scholars often cite The Waste Land and "The Love Song of J. Alfred Prufrock" as touchstones of No Man's Land. But I recalled another great modernist poem.
Late in Act 2, when Pinter's dialogue begins to conjure some kind of eternal limbo for the characters, expressed in terms of endless winter, I thought of Wallace Stevens' "The Snow Man," which begins, "One must have a mind of winter to regard the frost, and the boughs of the pine trees crusted with snow ..."
Pinter has a mind of winter. And his characters, along with the audience, are Stevens' "listener, who, nothing himself, beholds nothing that is not there, and the nothing that is."
PICT's fine production of No Man's Land -- part of its multi-play Pinter festival -- is directed by Andrew Paul and stars Sam Tsoutsouvas, Rick McMillan, Jarrod DiGiorgi and David Whalen.
There are two more performances: 7 p.m. Tue., Aug. 17, and 8 p.m. Sat., Aug. 21 (www.picttheatre.org).