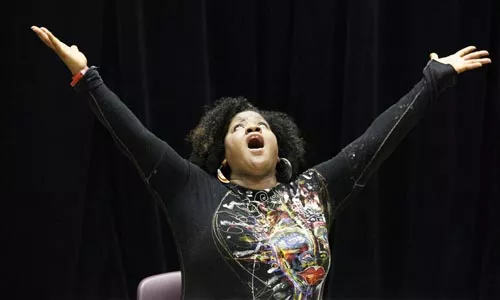 "I write poems and I am a poem," declares German in her new solo show, which premiered last night at the August Wilson Center's First Voice Festival.
In my profile of German in this week's CP (www.pittsburghcitypaper.ws/gyrobase/Content?oid=oid:79346), I quoted several of her poems, but mostly let them speak for themselves. As best as they can, that is, on paper: German's explicitly a performance poet, her work meant written to be recited aloud and even acted out.
At Root's premiere, directed by Heather Arnet, German sang some of her words; spit others out typewriter-quick; and drew out still others in langorous syllables. German often speaks of poetry's sound, and this 75-minute piece in fact ends with a sort of incantation about her "going over onto the sound and into the sound" and a request that we join her (a request her joyful dance moves throughout the evening made all the more enticing).
As with music, in a performance like this it's neither possible nor wise to try to separate the sense from the sound. But German's subject matter and straight-up rhetorical skills continued to prove as potent as in previous shows, like Testify, or "Let Her Be a Sweet Thing," her recent civil-rights-themed work performed at the Toonseum.
The show ranged from a summoning of her childhood in Los Angeles, when she first experienced her deep love of poetry, to a thunderous climax: a potent swat at white privilege and white presumptiveness that begins, innocently enough, with German describing herself attending a breakfast meeting.
Here's a few lines from the show as a whole that jumped out as especially good, most somehow combining a sense of outrage with German's deep ability to empathize. German describing street kids "working slave-plantation hard at the myth of their own ruthlessness." German imagining the violent fates of similar kids as "all those new teeth in the ground." Telling how she comes to understand certain situations: "Some things I can't see with my eyes open."
As with the premiere of any stage show, this one had its slow spots and its bugs to work out. But it's got potential for a life beyond Pittsburgh -- and hopefully for additional performances in Pittsburgh, too, as the premiere (result of an August Wilson Center fellowship) was a one-off for now.
One part of Root I'd definitely keep is the sequence describing an encounter with a disheveled, hugely fat man on a city bus. It begins with minutely observed, poetically rendered details and shifts imperceptibly into a metaphysical conversation between the poet and the man, who's just "looking for something he lost a long time ago."
The show's coda, by the way, includes German giving voice to hypothetical skeptics about a story she's just told, about a shape-shifting ancestor. She replies, "Didn't I just turn myself into all kind of poems and then back again?"
And it's true -- she did.