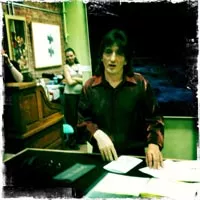 The crowd gathered at Shaw Galleries downtown Friday night was unique: kids, older Pennsylvanians, 30-something arty types, a small contingent from PNC Bank. The common interest was the poet they'd all been reading for years, a man who'd been paying almost weekly for the chance to put his words before them -- the bard of Green Tree, Billy Nardozzi.
Nardozzi is something of a local legend, and this was his coming-out party: the first public reading for a guy who works for the LCB and, to hear him tell it, spends most of his free time alone with a pen and yellow legal pad working on epic odes with an AA/BB rhyme scheme and occasional "extraneous quotation marks." He publishes his work regularly in the "Celebrations" classifieds section of the Post-Gazette, paying out of his own pocket to share his odes (celebrations they usually are): the romantic ("My Wife"), the mundane ("Primanti's"), and the speculative ("If I Met Jesus," my personal favorite).
The excitement mixed with anxiety as the room filled up: would the diminutive man with the famous mullet deliver? Would get get nervous and, as the poem he scribed for the event flyer suggested, "just take some Tums?"
Nardozzi is an outsider artist, sure: his rhymes are simple and his meter is nearly always the same. As he noted at the reading, he never went to college, and thinks of himself as "not a really smart guy." But it's impossible to feel as if he's biting off more than he can chew with regard to publishing his work and asking for feedback: lacking the vanity and, therefore, the fragility of an artist closer to the mainstream, Nardozzi takes the praise he recieves to heart and lets the criticism roll off his back: "That's just someone's opinion," he noted. "Everyone has an opinion. Who cares?"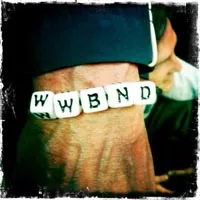 The poet read from a newly published book that local designer Brett Yasko helped construct (it's of course called Celebrations) and from some yet-unpublished works. He kicked off with a double-whammy of odes to restaurants -- "Long John Silver's" and "Red Robin" -- to "whet our appetite," then went for some juicy tales of adolescent romance, and the classic story of how he'd treat Jesus if he were stopping by for the weekend. ("I got a lot of calls about this one," he noted. "What did people say?" an audience member asked. "'Why don't you take him to a better restaurant?!'" Nardozzi recounted.)
Effervescent, self-deprecating, charming, the Pittsburgh Poet was nearly speechless when audience members decided to show their Nardozzi pride: a few folks wore t-shirts with his visage in the style of the Shepard Fairey Obama print, with "POET" written across the bottom, one man sported a "WWBND" bracelet given to him by his son. He was moved nearly to tears a few times when he read work about his wife or his parents. He laughed at himself when he got to the funnier lines in his work, like where he takes Jesus to McDonald's for "afternoon lunch," and when he thanks the PLCB for the "job se-cur-i-ty." (He explained here that the hyphens are simply a device to make sure we read with the rhythm he intended. The quotation marks, on the other hand, are inexplicable -- "Someone wrote about it and said 'Who is he quoting?!' And I thought about it and -- Who am I quoting? I don't know! It's just something I do!")
But he won't change, and we don't want him to: Billy Nardozzi may or may not be the poet we want to be, but he's definitely the person we want to be. Maybe not the haircut, okay, but the ebullience, the confidence, the ability to touch other people with his simple observations. When we laugh about Billy cooking Jesus his "famous spaghetti," we're laughing with him. When he puts his poetry before us week after week, he's not begging for our attention, he's sharing with us. If it's possible to be both a folk artist a true original, Billy Nardozzi is both.