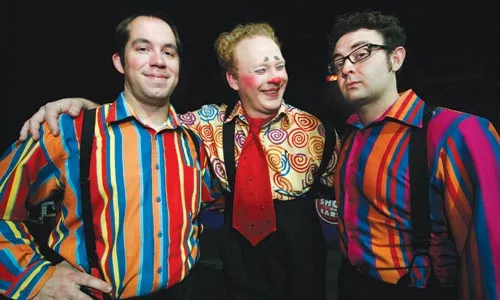 Once you've caught a behind-the-scenes glimpse of the circus, you never see it quite the same way again. And once you know someone in the circus, you see it a lot more often.
Prior to writing CP's Nov. 2008 cover story, "The Greatest Job on Earth? Pittsburgh Musicians Jeremy Papay and Steve Palko Join the Circus," I'd seen the Ringling circus just once in my adult life. But after covering the "Gold Tour" show in Erie, Pa., I later caught the big three-ring production at Mellon Arena; last week, I took a roadtrip to Knoxville, Tenn., and saw the Gold Tour again -- the same touring company I'd initially written about, still featuring its Pittsburgh-native rhythm section of Papay (drums) and Palko (bass).
Every two years, the shows are overhauled, with new acts (some from the other Ringling touring companies) and a new theme or story -- the new Gold Tour show is called Illuscination, and features magic tricks and illusions. The show also has a new musical score. While the last show had some more lyrical moments, this one is pretty hard-driving throughout, and thus a good showcase for technical skills of Papay and Palko.
Visit the Ringling Bros. Web site for more information, including upcoming show dates.