Courtesy of Daily Kos, we've got this amusing e-mail invitation to a fundraiser for Republican Senatorial candidate Pat Toomey. The e-mail touts Toomey as being potentially "one of the most pro-business, pro-growth members of the Senate," while decrying his Democratic opponents for pursuing "a populist, anti-business agenda."
Got that, teabaggers? Pat Toomey doesn't want any populism in this campaign. One reason for that will become apparent in just a second.
It's no surprise to see Toomey's campaign coddling corporate America. That's where the money is and, among other things, Toomey formerly presided over the rampantly conservative Club for Growth. But the list of e-mail recipients deserves a closer look.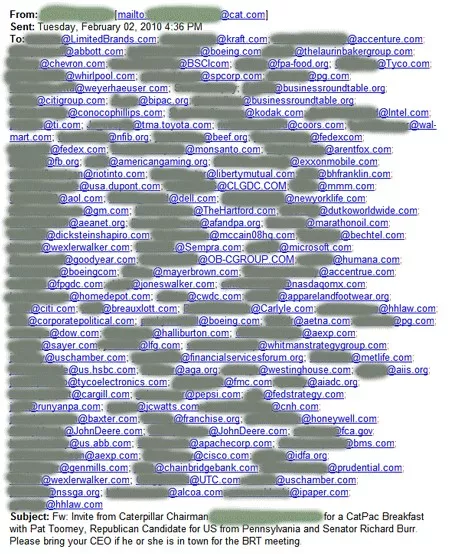 OK, you've got your oil companies like Chevron and Marathon Oil. You've got Wal-Mart and Microsoft, and Coors (of course). There are a couple firms with Pittsburgh ties too: Westinghouse and Alcoa. I was interested to note a trade association for the gambling industry -- the American Gaming Association. Nothing but family values for Pat Toomey!
But here's the kicker for me. Included in the invitees are entities like Citigroup and the Financial Services Forum. Who is the FSF? It's "a non-partisan financial and economic policy organization comprising the CEOs of 18 of the largest and most diversified financial services institutions doing business in the United States."
Among its members are executives with Bank of America, AIG, and Goldman Sachs.
Well, well, well. Toomey, of course, touts his opposition to bailing out financial institutions: "Bailouts reward companies that took too many risks and acted irresponsibly simply because they are large and hold sway in Washington." But Citigroup, Bank of America and AIG were all among the recipients of bailout money. Goldman Sachs benefited mightily as well, as did FSF members like Bank of New York Mellon and State Street Corp.
But don't worry, teabaggers: Surely this crop of conservatives will never renounce their principles like the last bunch did!