It's on.
As I type this, police are squaring off with protesters taking part in an unpermitted march in Lawrenceville. Hundreds of protesters at least are marching along Liberty: Police are waiting at 34th street, with riot shields. Protesters are being warned by PA that if they do not disperse, they will be subjected to arrest, "the use of riot-control agents and non-lethal munitions which can cause injury."
Meanwhile, a group of Ethiopian demonstrators have been making their way through the streets of Downtown Pittsburgh. The demonstrators are accusing the U.S. and other nations of supporting a corrupt dictatorship: The country is ruled by Prime Minister Meles Zenawi, who The Economist characterizes as a "Marxist fighter turned political strongman with a dismal human-rights record who is intolerant of dissent."
The demonstrators have been engaged in a sort of shadow-dance with state troopers, phalanxes of whom periodically confront the demonstrators, and then back them out of the street, with batons drawn. Photos follow: I'll have more from Lawrenceville when I can.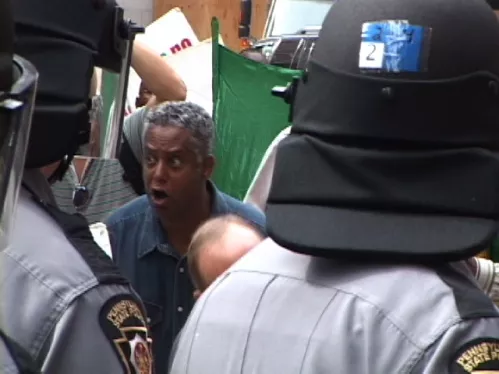 Also taking place Downtown is a protest on behalf of Tibet. As with the Ethiopian protest, demonstrators are facing off a phalanx of state police. And as with the Ethiopian protest, the protesters are outnumbered by onlookers -- including reporters who are still working off a morning of boredom. But there is no hint of violence at this point.