And we're off!
The first high-impact protest of the G-20 has taken place on the West End Bridge. Activists have hung a banner from below the bridge deck, photographed by our very own Charlie Deitch.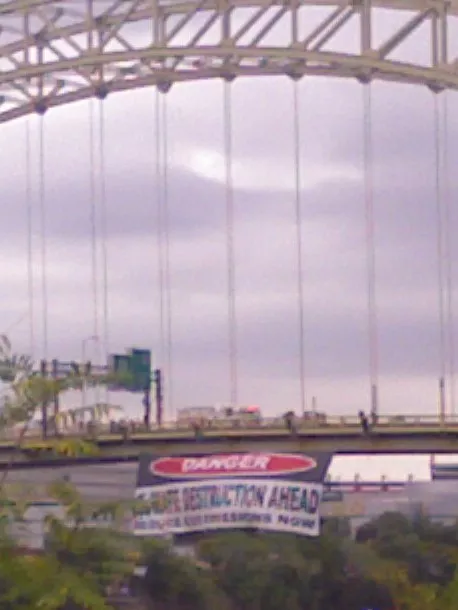 Not sure if you can read that, but it says: "Danger: Climate Destruction Ahead. Reduce C02 emissions now"
As I write this, police officers are beginning to repel from the bridge deck. (If you look closely, you can see them positioned above the banner, perched on the railing.) The protesters who deployed the banner are still hanging from below.
The demonstration attracted at least two military helicopters, and Deitch spotted roughly two dozen police officers -- most of whom appeared to be on loan from Erie, Pa. -- on the deck. There are also at least three law-enforcement boats in the water below.
ADDED: The Tribune-Review is reporting that Greenpeace, who is claiming responsibility for the demonstration, also sought to hang a banner from the Fort Pitt bridge, but police caught activists before they could pull it off.
"Police planned to bring some of the participants to Point State Park," the Trib says. I'm guessing it's not so they can get good seats for tonight's "Green Jobs" rally.
Meanwhile, in a statement, Greenpeace says the banner
"comes on the heels of a major address by President Barack Obama on climate change at the UN, where he warned of the tremendous danger the world faces from global warming but failed to commit his country to the science-based action necessary to stop it."
Greenpeace wants the U.S. and other large countries to invest more heavily in green jobs ... and to help pay for forest protection and other environmental initiatives in poorer nations.