I spent 45 minutes or so Wednesday evening watching Obama "Hope" poster artist Fairey and his crew of four as they made a Downtown stop on their rounds during a week-long mural project.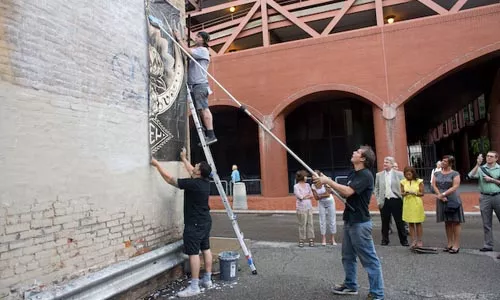 Fairey is a veteran street artist whose work is now the stuff of museums and sanctioned public works. Indeed, this mural initiative was arranged by The Andy Warhol Museum, where Fairey has a show opening in October.
On First Street, just off the rush-hour traffic on Wood, the Los Angeles-based Fairey drew a small crowd by taking over one end of a small parking lot to wallpaper-paste big sheets of pre-painted paper to the side of an old three-story brick building (the studios of architect L.D. Astorino). This was the first Downtown stop on a multi-day route that had taken them through the Penn Avenue corridor, to buildings including the Sprout Fund's, in Garfield.
Working in a spitting rain, the crew unloaded its supplies including an aluminum ladder from the hatchback of a late-model gray Chevy Traverse. Using long-handled brushes, they soaked the wall with paste. The paper ranged in size from small posters to strips a couple feet wide and several feet long.
"We're going to put the lotus and the peace fingers up first, then we'll rip patterns back into them," Fairey told his crew. "Just start getting it lathered up."
Fairey gained fame years ago by posting in public places his images based on pro wrestler Andre the Giant over the legend "Obey," usually without permission. (Fairey later copyrighted "Obey" slogan, leading to a brief legal battle this year with a Pittsburgher who used the word in an online project.) His iconic, red-and-blue Obama poster -- which got him into legal trouble because it was based on an appropriated news photo -- is arguably the most recognizable campaign art in recent decades.
In his old guerilla-art days, Fairey painted murals right onto the wall, and had to work fast, lest building-owners object. But his Pittsburgh sheets were all hand-painted, in his LA studio. The big ones, with a dark brown background, featured either a version of the famous '60s hand making the peace sign or a big kind of mandala. The small ones were a rich red, bearing another abstract. All of them incorporated stylized renderings of "Obey" and barely legible versions of his Andre the Giant logo.
Once they'd stuck the sheets to the wall -- again using brushes, in the style of old-school billboard plasterers -- the crew, under Fairey's direction, folded or ripped them into new patterns.
"If you look at my work, it's just like a puzzle I keep adding pieces to," he said.
Fairey's also in town to do an event with the Netroots Nation conference: Friday night, he'll hand out 1,500 free clean-energy-themed posters and DJ at the Warhol and the neighboring former Rosa Villa restaurant.
If you want to watch him work, he told me that he'd be at the Rosa Villa most of the day Thursday and Friday, doing another mural.