Once upon a time, in a land called Pittsburgh, four young men formed a thrash metal band. They looked like this: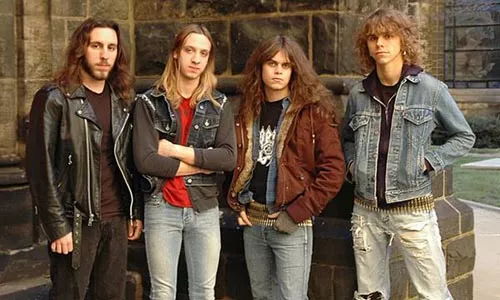 "Excellent," you're thinking. "Another story about 1986. Will you ever cease to bore us, Andy Mulkerin?"
Except not: this was more like 2006. The band was called Meltdown, and I saw them once or twice at the Mr. Roboto Project when they were still quite new. My thoughts on the band were, in this order:
1. Whoa, these dudes rock the skinny-guys-in-hitops-and-muscle-shirts thing pretty hard!
2. Whoa, these dudes are really young!
3. Whoa, these dudes totally shred!
Fast-forward to 2009; Meltdown is now called Mantic Ritual, and live in LA (but rep Pittsburgh as their hometown, which of course makes us adore them even more). Their music is always threatening to go over the top, nearly descending into parody, but it maintains a certain je ne sais quoi that keeps it straight up awesome instead of just goofy.
Mantic Ritual has a full-length, Executioner, out on Nuclear Blast Records. The band returns triumphantly to its hometown Friday night for a show at Howler's Coyote Cafe (Liberty Avenue, Bloomfield) that kicks off a national tour. Check them out on Myspace here.